RESIDENTIAL & COMMERCIAL LANDSCAPING PROJECTS
Learn more about some of our projects, see ideas and recommendations.
Residential & Commercial Landscaping
PROJECT HIGHLIGHTS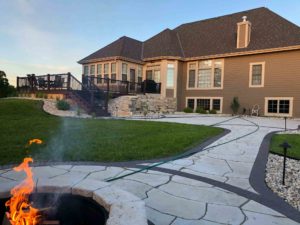 The start to another Rosetta Stone patio and fire-pit project. We love working with this product. Very natural look and amazing product to install. It all starts with some excavating, 48 tons of crushed stone, and 13 pallets of paver materials. It will be right around 900 sq. ft. when completed. We'll post pics as…
Read More...
Let's Get Started on Your Landscaping Project
Residential Landscaping
Experts in both hard and soft landscape design and installation. Extreme Green Lawn & Landscape will take your backyard to the next level.
Commercial Landscaping
Well manicured commercial properties can have a positive affect on a business. Customers and employees appreciate your landscape maintenance by Extreme Green Lawn & Landscape.
Snow Removal
Wisconsin winters can be brutal. Extreme Green Lawn & Landscape will clear your sidewalks and parking lots for the safety of your customers and employees.