Feature Project
NEW HOME LANDSCAPE CONSTRUCTION PROJECT
About the Project
New Home Construction A Blank Slate for Landscaping & Entertainment Space
This project was a new construction home in Sussex, Wisconsin. We took control of the landscaping starting with the final topsoil/finish grading work all the way to the very last plant installed.
The project began in the fall with the installation of a Lannon Stone Natural Outcropping wall. The following spring we began work with the construction of approximately 1225 square feet of Paver Walkways and Patio Entertaining area including a fire pit. Several larger outcropping stones were used as seating to compliment the fire pit.
The gorgeous composite deck, was actually built by the homeowners themselves and we worked side by side on our projects to make them come together as one giant entertainment space. Total square footage including the deck sits at a staggering 1965 square feet! Plenty of room for everyone to enjoy the outdoors!
Once the hardscape work was completed we buried all the downspouts on the property to move rain water away from the home. Next came the grading and moving of over 6500 yards of backfill and screened topsoil (that's almost 300 truckloads). Once the desired grade was achieved, we planted more than 150 trees, shrubs, and perennials. All landscape beds had a commercial grade edging installed, followed by a decorative stone to compliment the home and hardscape colors.
The now semi-retired homeowner, knew he didn't want to spread mulch every year, so they chose decorative stone for all the beds. The final task was the installation of Kichler Brand Low-Voltage Outdoor Lighting to add another dimension to the project as well as compliment the beautiful home.
We spent several months on this project and was truly a pleasure working with this client.
Let's Get Started on Your Landscaping Project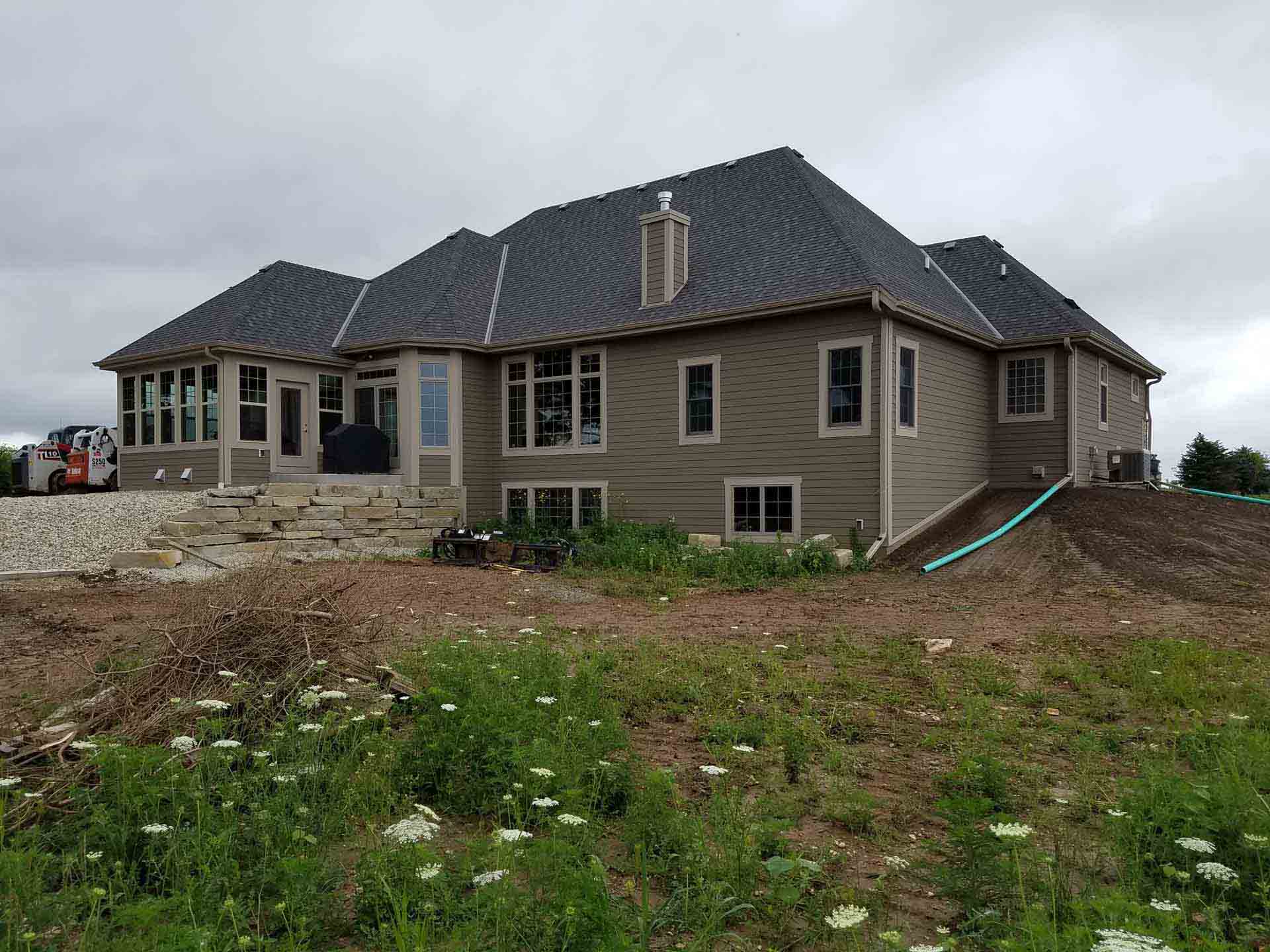 Topsoil & Grading
For this new home construction, we provided all the topsoil and grading in addition to burying downspouts and installing the lawn.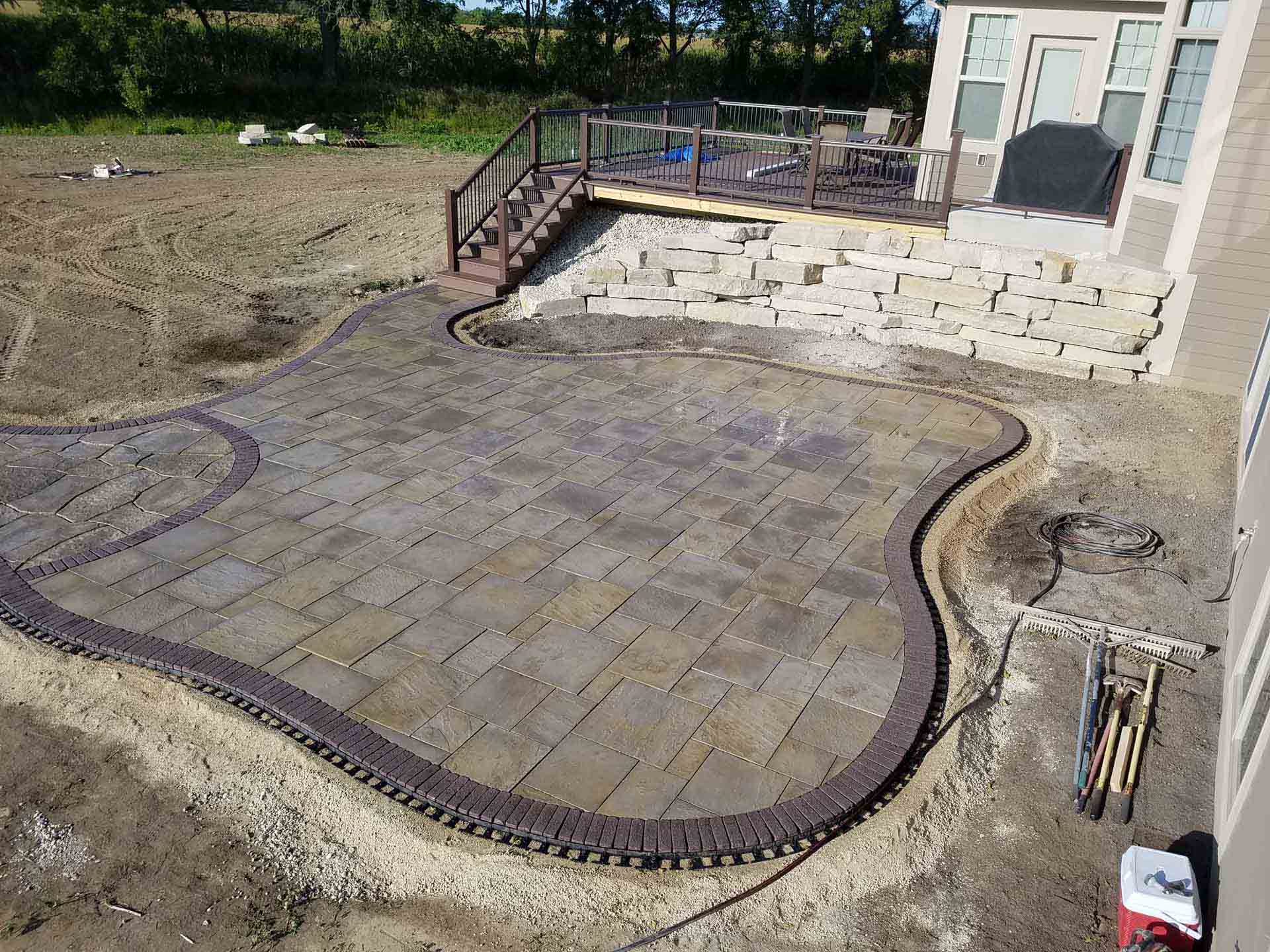 Custom Design Landscaping
We worked with the homeowners to bring their ideas and outdoor entertainment  needs a reality, carefully helping to select the proper materials and colors.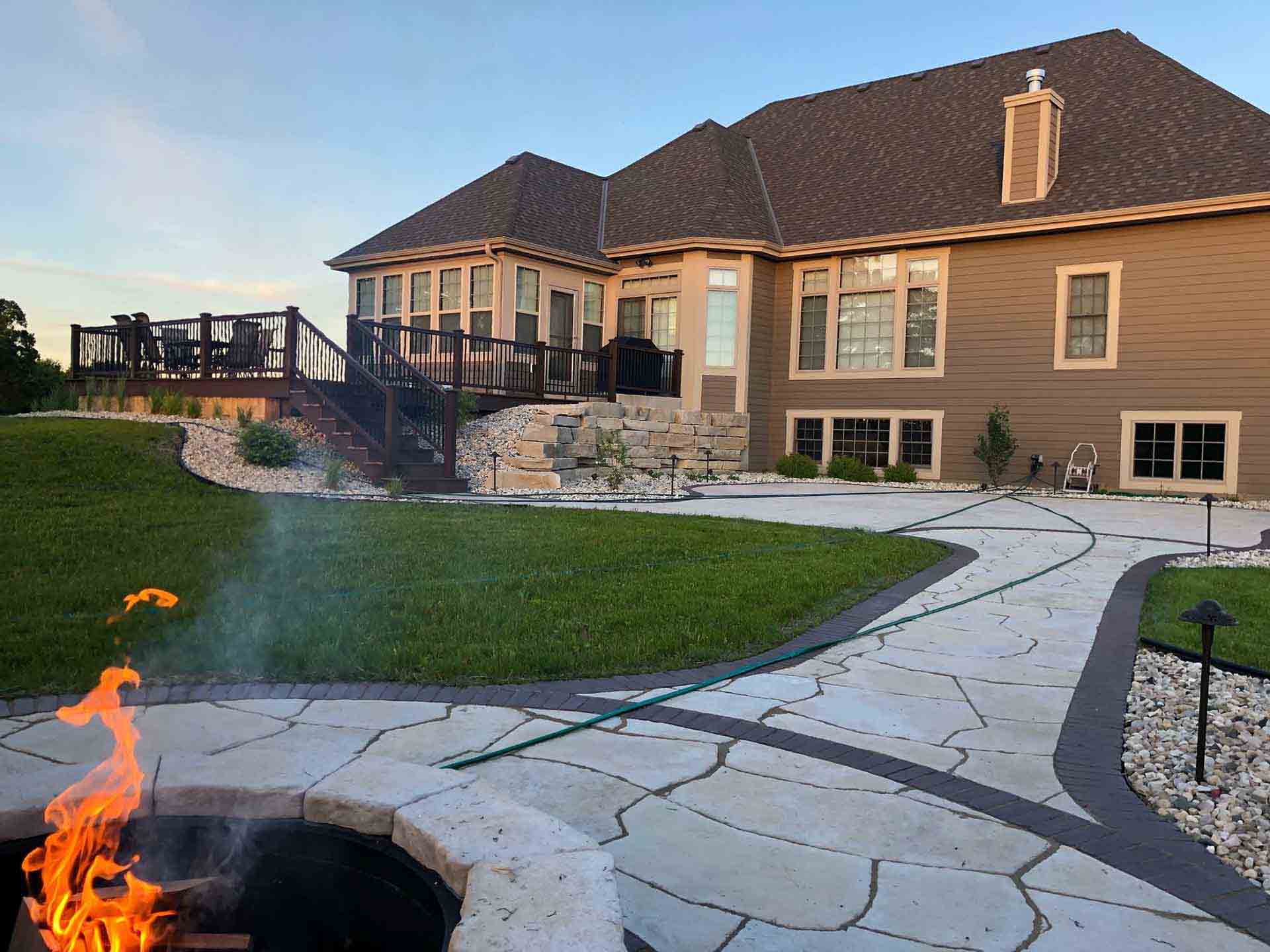 Low Maintenance Landscape
Softscape, perennials and plantings and hardscape surfaces chosen to make a low maintenance entertainment and relaxing space for the homeowners.
What This Client Had To Say About The Project
TESTIMONIAL
Residential Landscaping
Experts in both hard and soft landscape design and installation. Extreme Green Lawn & Landscape will take your backyard to the next level.
Commercial Landscaping
Well manicured commercial properties can have a positive affect on a business. Customers and employees appreciate your landscape maintenance by Extreme Green Lawn & Landscape.
Snow Removal
Wisconsin winters can be brutal. Extreme Green Lawn & Landscape will clear your sidewalks and parking lots for the safety of your customers and employees.